• Celebrating its 30th anniversary, REDCON Construction proudly stands as a prominent player in Egypt's EPC industry.
• With a diverse portfolio, REDCON encompasses eight companies contributing to various sectors, including construction, aluminum and glass façade solutions, steel production, ready-mix concrete, technology infrastructure, and real estate development.
• Steered by core values, unwavering standards, and a strong sense of social and cultural responsibility, REDCON brings its accumulated expertise, knowledge, and practices to the forefront. Its impact is evident across a spectrum of industries, from residential developments to manufacturing, infrastructure, education, hospitality, commercial, industrial, healthcare, solar and renewable energy projects, as well as transportation networks.
• At REDCON, a legacy of excellence has been nurtured, and there is a commitment to continually shaping a brighter and more sustainable future for Egypt and beyond.
Our Mission
Our mission is driven by a clear and ambitious goal to achieve regional and international expansion. We actively pursue intricate and diverse business opportunities, guided by a strong emphasis on value engineering, synergy, and innovative design. Fueled with our passion for excellence, innovation and sustainable growth, we strive to redefine the standards of the industry on a global scale.
Our Vision
We are determined to become the Green Builder of Choice while securing a spot among the ENR's top 250 construction companies worldwide.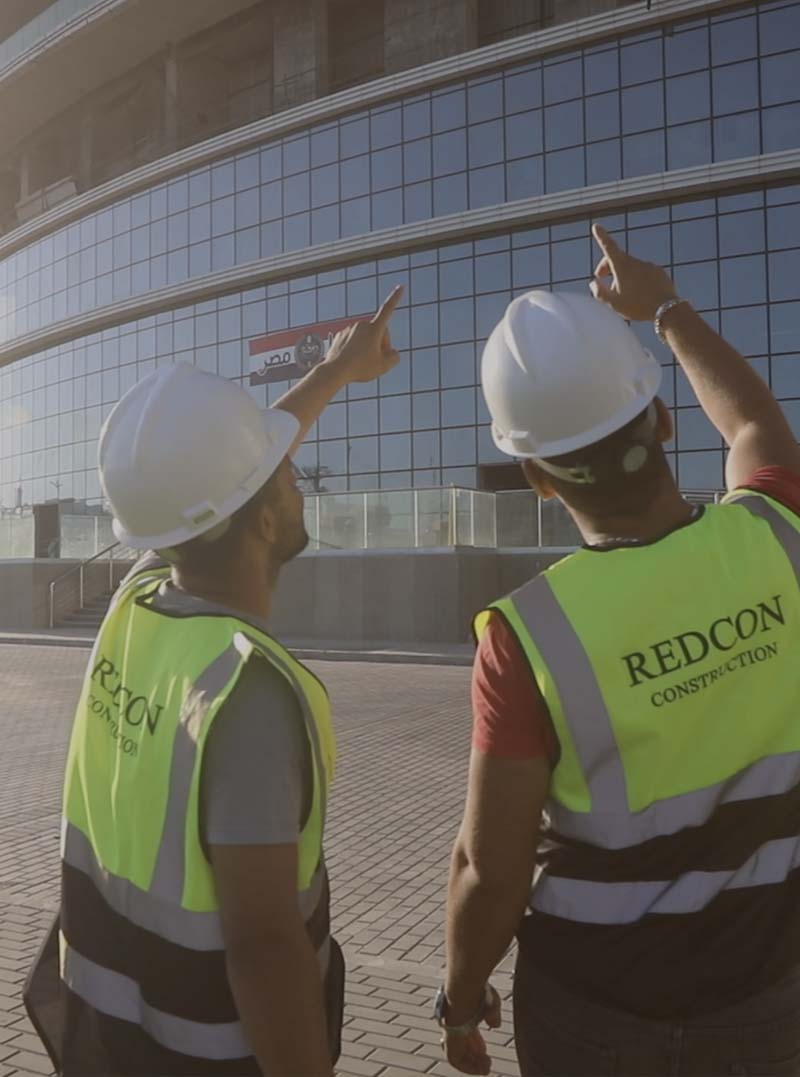 OUR TEAM
REDCON

Board Of Directors
Chairman

Eng. Tarek El Gamal




With over 40 years in construction development, Eng. El Gamal has mastered management and innovation. A Civil Engineering graduate and certified consultant in "TQM," he has completed programs in "Leadership Excellence" from AUC & Kellogg School of Management and "Latest Technological Developments in the field of Construction & Energy Efficiency." Eng. El Gamal is considered one of the most visionary businessmen in the Egyptian market, serving as a board member of two governmental companies. He is a former board member and founder of the Administrative Capital for Urban Development, the largest real estate developer in Egypt, and an active board member in the largest TOD developer in Egypt and The Ministry of Transportation for Investments and Projects. Mr. El Gamal also holds positions as a board member in eight international chambers and councils.



VICE CHAIRMAN

Mr. Ahmed Abdallah




A result-driven senior executive with a vast track record of over 30 years in investment and strategic leadership in the venture capital and private equity industry. Additionally, he has a long-standing career in CIIC, one of Egypt's leading investment banks, managing CIIC's investment portfolio, which currently stands at roughly EGP 315 million. He consistently delivers above-market returns with an IRR of around 20% to date.



Vice Chairman & CEO

Mr. Amal Abdelwahed




With over 30 years of experience in finance and management, Mr. Amal has mastered revenue enhancement, cost control, financial analysis, corporate governance, and investment evaluation. He has served as an entrepreneur and community developer, prioritizing commitment and business ethics. Mr. Amal has been a board member and co-founder of more than 10 companies in various business sectors. He holds a Bachelor's degree in Finance from Ain Shams University.



Position

REDCON MEMBER




Mr. El Shenawy has more than 24 years of experience in Finance & Investment. Mr. El Shenawy is a certified Chartered Accountant and registered in the Accountability State Authority since 1999, fellow of Egyptian Society of Accountants, Auditors (ESAA) and fellow of the Egyptian Society of Taxation (EST) since 2002. IFRS and EAS trainer and internal audit consultant. Participated in writing, translating and revising the new Egyptian Accounting Standards in 2015. Mr. El Shenawy had professional experiences at leading multi-national companies such as Marakez, Ernst & Young, Arthur Andersen, Faisal Holding Qatar and The Waterway Developments. Mr. El Shenawy earned a bachelor's degree in Commerce from Helwan University.